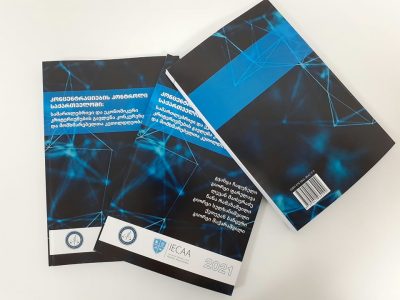 ×
Concentration control in Georgia
15 August 2021
LAWANDWORLD
0
Scientific Employee of the European University Law Institute - Gvantsa Chaduneli (with co-authors) presented the research project "Concentration control in Georgia: the impact of legal and economic criteria on competition and consumer welfare and won the small grant competition announced by the "International Education Center Alumni Association". The project supporters are the European University Law Institute and the International Center for Education.

The document developed as a result of the research, in addition to fully reflecting the intended results, was developed in the form of a "handbook". A systematic application document was created, which is based on both Georgian legislation and practice, as well as on relevant EU law and practice, and includes economic research and approaches to the protection of consumer rights in the process of concentration, both at the national level and at the level of EU practice. In addition, the process of harmonization of Georgian legislation with the "Georgia-EU Association Agreement" requirements was evaluated and analyzed.

Since there is almost no literature in the Georgian language on "concentration control" as a newly developing field for the Georgian legal and economic academic field, that is why the paper will be printed by the European University Law Institute and will be sent to both the beneficiary public agencies of the project and non-governmental organizations working in the field of consumer rights, the libraries of accredited higher educational institutions of the law and economics faculties in Georgia for using them in the educational process.

Thus, the mentioned document, on the one hand, will be a guide for decision-making public agencies, on the other hand, it will be a practice-based guide for business entities operating in the market, and yet, it will be used in the academic-learning process at the law and economics faculties of higher educational institutions.
Leave a comment
You must be authorized to comment.